Motion Detection Based Recordings
Based on your recording settings, your cameras may be recording continuously or based on events. If it is set to record based on motion detection, it will only record whenever motion is detected. This means that there may be significant gaps between each recording. However, one of the most common issues is that there are no recordings at all.
Note: This guide assumes you have done the basic networking for your recorder already and know how to log in through the browser.
Click here for basic networking information
Click here for web browser usage.
Troubleshooting The Problem
Step 1. Log into your recorder through the web browser.
Step 2. Click on "Configurations"
Step 3. Click on "Event"
Step 4. Check for several things under your motion detection settings now.
1. Is "enable Motion Detection" Checked? If not, enable it.
2. Is there a motion detection grid set up? If not, set it up using "Draw Area."
3. Is the sensitivity set at 0? If it is, raise the sensitivity level.
Step 5. Check the arming schedule for motion detection and ensure that it is on during your scheduled times. Click on "Arming Schedule" to review it.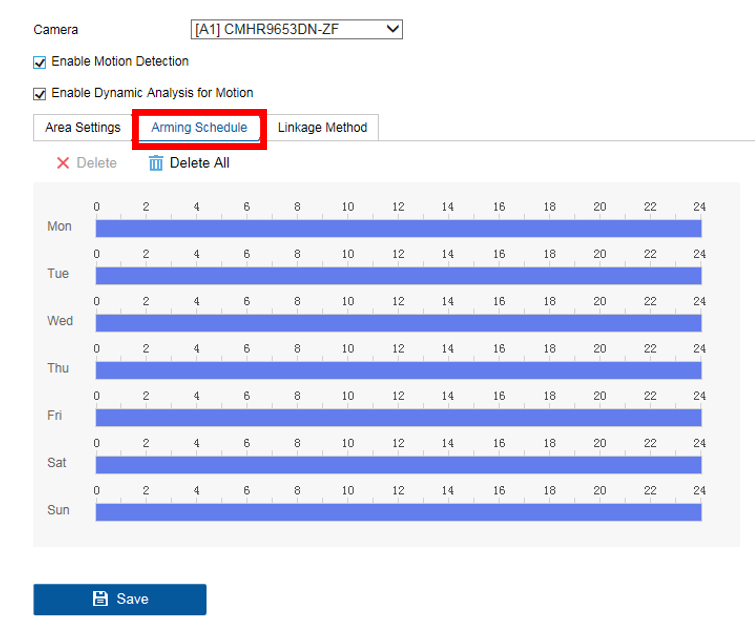 Step 6. Repeat Steps 4 and 5 for every other applicable camera that should be recording based on motion detection now.
You may switch to another camera's settings by opening the camera list and selecting another camera.
Step 7. If you are still having issues at this point, select "Storage" to find your schedule settings.
Step 8. At your "Schedule Settings," check for the following;
1. Is "Enable" checked for the schedule?
2. Is the correct type of schedule set? Is it set on motion or another type? If it is not set on motion, make sure it set onto motion.
3. Does every camera have the correct schedule? If they don't have the same schedule or the right schedules, make sure they are set correctly to record based on motion.
Note: Make sure you save the settings you change.
If you are still experiencing issues, we recommend contacting LTS Technical Support. Click here to learn more.