Whats Required Before Logging In?

The first thing all users should do when trying to access their recorders on the browser is to make sure the recorder is set onto the correct network. If it is not, you may not be able to access the device at all on your computer.
Note: This section only covers using a computer to activate your device. To learn more about how to do it on the recorder itself, click here.

IP Portal: Activating Your Device
Step 1. Download and install the Platinum IP Portal program from our website.
Note: For more assistance on installing the program, click here.
Step 2. Run the program. The Platinum IP Portal will display all currently connected devices on your network.
Step 3. If your recorder is new, it will be "Inactive" by default. You must activate it first unless you've done it already on the recorder itself.
Step 4. Select the inactive device by checking it's box.
Step 5. Type in the password for the device. This will be the recorder's password. Then click on "Activate."
Step 6.The "Activate the Device" page will now change into a "Modify Network Parameter" page.
Check the box for "Enable DHCP" and type in the password you made in step 5. Select "Modify" to apply the changes.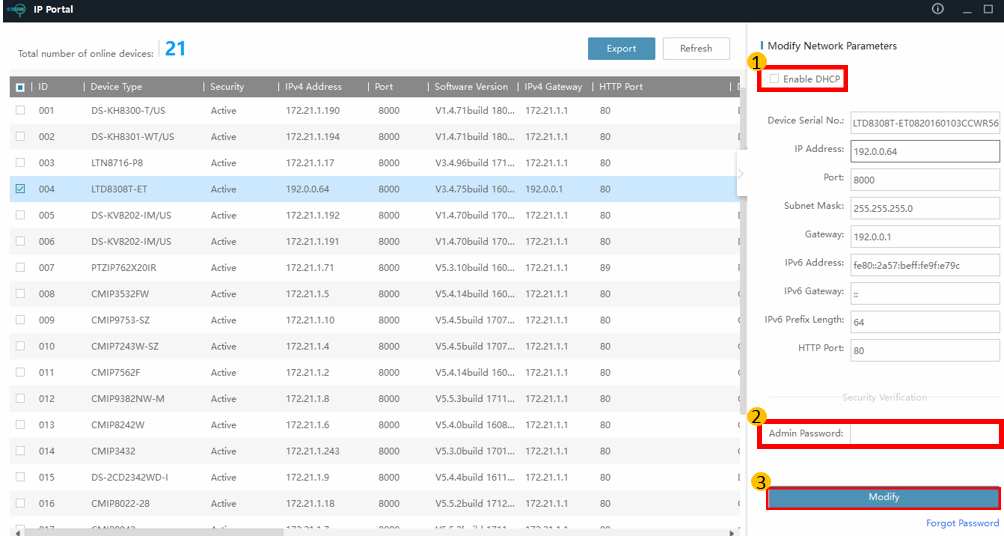 Step 7. Refresh the device list to confirm you have brought your device onto your network successfully. You should now see a new IPV4 address in place of the default address of 192.0.0.64.
Note: Click here to learn how to access the login page for the device.