Usually, you really don't need to change this setting because the camera is designed for the low lux environment. If you are in the total dark environment, you may turn on the White LED to enhance the image quality.


To turn on the TVI Color 247 LED setting. You need to open the OSD menu from the PTZ panel.
Use the Iris + to bring up the OSD Menu. use Up/Dn/Lf/Rt to control the cursor from the OSD menu.
Use Iris + to select it.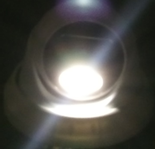 The Option is only Auto / OFF
IP Camera LED Settings