What is TeamViewer?
TeamViewer is a proprietary software owned by TeamViewer Gmbh. LTS uses TeamViewer for desktop sharing and file transfers between our caller's and technician's computers. There is no charge on the caller's end when LTS Technicians use TeamViewer. For more information on TeamViewer, learn more here.
Is Teamviewer Malware?
TeamViewer is not malware. Please ensure that you download TeamViewer only from TeamViewer's official website or LTS's website. Do not download TeamViewer from any other unofficial websites for best security practices.
What Version Do I Need?
LTS Technicians currently use the latest TeamViewer version. This means you may use any version before version when calling for support.
How To Install TeamViewer Quick Support

1. Download the appropriate TeamViewer version for your OS here.
2. Depending on where you saved TeamViewer, find and open "TeamviewerQS"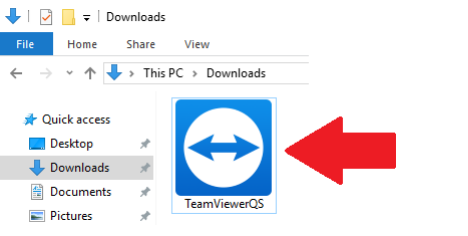 3. TeamViewer should now be running if allowed to run